Garmisch-Partenkirchen - Other areas of interest
Top of page
Events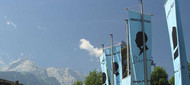 As well as the variety of cultural events such as the Richard Strauss Festival, there is a wide range of sports activities and major events in and around Garmisch-Partenkirchen both in summer and in winter.
International New Year Ski Jumping
Ski jumpers from Germany, Austria, Scandinavia, Poland and many other nations show off their skills on the large Olympic ski jump. The tournament is held at a number of centres, starting in Oberstdorf and moving on to Garmisch-Partenkirchen, Innsbruck and Bischofshofen.
SummerCamp
A huge halfpipe, perfect deep-snow slopes and a fun park raise the adrenalin levels of snowboarders and free-skiers at Gap 1328 SummerCamp. Another highlight is Germany's biggest open-air jacuzzi on Zugspitze mountain, the perfect place to chill out and relax. The SummerCamp parties are also legendary.
BMW Motorbike Rally
In summer, BMW motorbike owners and fans flock to the International BMW Motorbike Rally on the festival site. Group rides through the most beautiful touring country in the foothills of the Alps, great shows, fascinating talks, interesting exhibitions, test drives on the latest models and plenty of parties.
Top of page
Map of Germany
Map showing all of Germany's TOP travel destinations...
Click here!
Hotels in Garmisch-Partenkirchen
Search in surrounding area