Garmisch-Partenkirchen - Other areas of interest
Top of page
Suggested excursions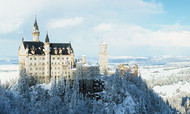 In addition to the numerous options for excursions into the countryside, popular places to visit include King Ludwig's fairytale castles, the Glentleiten open-air museum, Oberammergau, home of the Passion Plays, the violin-making museum in Mittenwald and the Blue Riders in Murnau.
Neuschwanstein Castle
King Ludwig II's most famous creation stands on the old border area between Bavaria, Tyrol and Swabia in the majestic mountain landscape of the fabled Schwangau. With its turrets, battlements and gables, Neuschwanstein Castle is an impressive picture-book example of a mighty royal castle. The king ordered it to be built "in the true style of the old German knights' castles".
Oberammergau
Oberammergau is widely known as the home of the master wood carvers, a tradition that dates back to the Middle Ages. There are currently around 100 active wood carvers creating everything imaginable from wood, from religious figures to everyday household objects. Pilatus House is the first port of call for anyone wishing to find out more about this art.
Mittenwald
The centre of the Upper Isar Valley came to international prominence in the Middle Ages, partly as the main point of transhipment for "trade between north and south" but primarily because Bozen (Bolzano) Market was relocated here. The town enjoyed a second heyday thanks to artisan Matthias Klotz, who brought violin-making here and started a tradition that has continued to this day. The informative violin-making museum is furnished like a home with country-style furniture, arts and crafts and all types of household items.
Top of page
Map of Germany
Map showing all of Germany's TOP travel destinations...
Click here!
Hotels in Garmisch-Partenkirchen
Search in surrounding area