Museums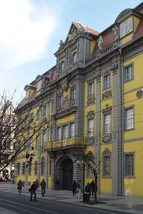 Erfurt has a number of very special museums, including the German Horticultural Museum, the Thuringian Folk Museum and the Municipal Museum. Art and crafts are the preserve of the Angermuseum.
Thuringian Folk Museum
Since it opened in 1955, the Thuringian Folk Museum in Erfurt has been located in the prestigious manor house of the medieval
"Grosse Hospital"
. It is one of the largest folk museums in Germany covering approximately 900m² and featuring a wealth of objects relating to past and present rural life, including furniture, household items, tools, glass, ceramics, jewellery, religious objects and folk art and craft, from 1750 to the 19th century. Closed on Mondays.
»
www.volkskundemuseum-erfurt.de
Erfurt Museum of Natural History
The Museum of Natural History in Erfurt's old quarter was founded in 1922. Covering an exhibition area of approx. 1,200m² across four floors, it provides information about various natural habitats in Thuringia. When visitors enter the museum, their gaze is immediately drawn to a 350-year-old English oak, which stands 14 metres high and appears to grow through each of the museum's floors. Among the zoological collections, the entomological insect collection is the most extensive with 350,000 creatures (2,000 different species), followed by the herpetological collection with 4,500 amphibians and 800 reptiles, 4,000 birds, 1,200 mammals, 12,500 plants, 15,000 fossils, 7,000 minerals and much more. Closed on Mondays.
»
www.naturkundemuseum-erfurt.de
Electronics Museum
The electronics museum was opened in 2000 with an exhibition space of almost 300 m². Its exhibits illustrate the development of electronic engineering and electronics in a range of areas, such as electrical installation technology, energy technology, electrical and electronic metrology in different areas, high-vacuum electronics, oscillograph tube technology, office equipment and computers, domestic electric appliances, radio, sound and television engineering, small-scale electrical machinery, communications technology, microelectronics, electroacoustics and electroceramics. Closed on Mondays and public holidays.
»
www.elektromuseum.de
Augustinian abbey
The largest of Erfurt's surviving abbeys is that of the Augustinian hermits which was built in 1277. It is an impressive example of medieval religious architecture and is closely linked with the name of Martin Luther, who lived here as a monk. Several courtyards are grouped around the Gothic abbey church; the Renaissance courtyard is particularly delightful. A Luther exhibition and Luther's room can be viewed during the guided tour. The library, which has 60,000 volumes, is one of Germany's most important collections of ecclesiastical literature. Among the 13,000 manuscripts and prints dating from before 1850, the incunabula (early printed documents), the Reformation writings and the Luther editions deserve a special mention.
»
www.augustinerkloster.de
ElektroMuseum
The exhibition illustrates various aspects of the history of technology: e.g. office and computer technology, radio technology, TV technology, household appliances, measurement technology and the history of electricity in Thuringia.
»
www.elektromuseum.de
Top of page
Map of Germany
Map showing all of Germany's TOP travel destinations...
Click here!
Search in surrounding area