Events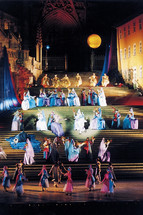 Every year Erfurt hosts a variety of unusual festivals, including the Thuringian Bach Festival, the Merchant's Bridge Festival (Thuringia's biggest medieval festival), Martin's Festival celebrating the birthday of Martin Luther and the open-air Cathedral Steps festival plays on the world's most beautiful stage.
Thuringian Bach Festival
The Thuringian Bach Festival in Erfurt focuses on music of the 17th and 18th centuries. It features works by the various members of the Bach family and their contemporaries. The programme also includes visits to sites with Bach associations as well as a short organ recital.
Cathedral Steps festival plays
Every summer, the 70 steps between the magnificent twin edifices, St. Mary's Cathedral and the Church of St. Severus, are transformed into one of the most beautiful open-air festival stages in the world.
Christmas market
A particularly picturesque setting around Erfurt's Cathedral Square and in the old quarter which dates back 1,260 years. Over 200 wooden huts offer typical Thuringian specialities and traditional handcrafted products. Focal points are the candle-bedecked Christmas tree (over 25 metres tall) and the nativity scene with its handcarved, almost lifesized figures.
Top of page
Map of Germany
Map showing all of Germany's TOP travel destinations...
Click here!
Search in surrounding area