Suggested excursions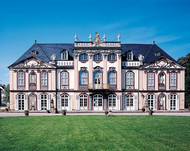 Erfurt's central location makes it the perfect base for a range of excursions into the delightful surroundings. There is something here for everyone, whatever your interest.
Molsdorf Palace and Park
The late-baroque Molsdorf Palace and its beautiful park - also known as the "Thuringian Versailles" - are in Molsdorf on the southern outskirts of Erfurt. The years 1734 to 1748 were very much the palace's heyday, when the pleasure-loving Prussian diplomat Imperial Count Gustav Adolf von Gotter resided here, freely indulging his philosophy of life: "
vive la joie
" (long live happiness).
Marienthal bridge
The Marienthal Bridge, on the way to Molsdorf, was built over the Apfelstädt river in 1752 on the initiative of Imperial Count Gustav Adolph von Gotter, the owner of Molsdorf Palace. The richly decorated stone bridge was designed by the well-known Thuringian architect Gottfried Heinrich Krohne. Following extensive renovations, the bridge is now one of Thuringia's most important historical bridges. It is next to the Landgasthof Marienthal, a country inn.
Thuringian Open-Air Museum
30 buildings dating from the 17th to the 20th century, including some brought to Hohenfelden from other villages in central Thuringia, illustrate rural life in days gone by.
Top of page
Map of Germany
Map showing all of Germany's TOP travel destinations...
Click here!
Search in surrounding area