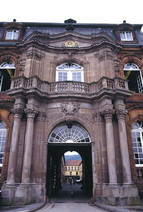 Villeroy & Boch could hardly have chosen a more beautiful base for their products than this former Benedictine abbey dating back more than 250 years. The famous porcelain manufacturer turned this palatial building into a ceramics factory at the start of the 19th century.
Ceramic art as a reflection of the times
The monumental fašade of this former Benedictine abbey is adorned with ornamental designs. At the beginning of the 19th century the abbey was turned into a ceramics factory by Villeroy & Boch. Today, the ceramics museum and the Keravision exhibition give visitors a behind-the-scenes look at this prestigious ceramics manufacturer. Learn all about the company's fascinating history, which stretches back more than 250 years. As you journey through the ages, see how historical events are reflected in the design of the pieces.