Nature & greenery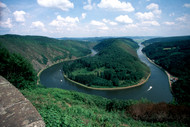 Mettlach is surrounded by glorious countryside, in the heart of the area where Germany borders France and Luxembourg. The Saar-Hunsrück Nature Reserve is a wonderful place where cyclists, hikers and walkers can actively enjoy nature. The idyllic scenery along the banks of the Saar and Moselle rivers is best explored by bike or by boat.
Saar-Hunsrück Nature Reserve
The Saar-Hunsrück Nature Reserve is one of Germany's largest and most beautiful nature reserves. Its magnificent countryside consists of woodland, meadows, river valleys, vineyards and unusual rock formations. Cultural attractions include reminders of the days of the Roman Empire and the Middle Ages. Whether you are on a walking or cycling tour, a family holiday or a gourmet break - there's something for everyone here.
Saar Bow
The Saar Bow - the Saarland's most famous landmark - is a particularly spectacular natural attraction. At this point, the Saar has carved a course through the hard rock strata and winds its way impressively through the surrounding dense forests. Cloef viewpoint offers magnificent views of the Saar Bow, which you can also explore by boat or on the well-maintained walking and cycling trails.
River Moselle
The sweeping Moselle is lined with many vineyards set on elaborately designed slopes almost 300 metres in height. Packed into the narrow strip of land between the river and the vineyard slopes, you'll find many a romantic, inviting town or village with slate-roofed and half-timbered buildings, as well as hilltop castles. You'll also find idyllic winegrowing villages and vineyards with familiar names, with taverns and cultural history at every turn.
Top of page
Map of Germany
Map showing all of Germany's TOP travel destinations...
Click here!
Search in surrounding area