Places of interest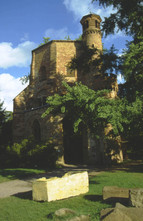 A trip to Mettlach is like stepping back in time. The Old Tower dates back to the end of the 10th century. You can learn more about the life of medieval monks and knights at Montclair Castle. Mettlach also has plenty of baroque and modern influences.
Montclair Castle
Montclair Castle, once one of the most imposing castles in the region, has been sitting in splendour high up on Burgberg hill overlooking the Saar Bow since the 12th century. On a guided tour accompanied by a museum guide dressed as a castle ghost, visitors can learn all about the myths and legends that surround the old and new Montclair (built in 1439).
St. Lutwinus Church
The foundation stone for the parish church of St. Lutwinus in Mettlach was laid in 1899. The church was designed by an architect from Mainz in the Rhenish-Romanesque style. The interior was not completed until 1954. Special features in the church include the beautiful and rare mosaic work on the floors, walls and ceilings.
The Old Tower
The oldest surviving religious building in the Saarland region, the Old Tower dates from the latter part of the 10th century. At the entrance to the small church, known as the Old Tower because of its octagonal design, there is an arch dating from Ottonian times (919-1024). The remaining seven sides have small niches, which were rebuilt in the Gothic style.
Top of page
Map of Germany
Map showing all of Germany's TOP travel destinations...
Click here!
Search in surrounding area