Places of interest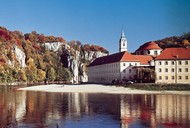 Kelheim has a beautifully preserved old quarter with towers and gates dating from the Middle Ages. High above the town is the Hall of Liberation, an enormous rotunda. Weltenburg Abbey sits beneath the cliffs of the Danube Gorge. It is regarded as the oldest abbey in Bavaria and has its own brewery.
Weltenburg Abbey
Weltenburg Abbey is located on a peninsula directly beneath the cliffs of the Danube Gorge. It was founded by Irish or Scottish monks in 620 and is one of the oldest abbeys in Bavaria. The present Benedictine abbey dates back to the 18th century when it was extensively rebuilt by the Asam brothers, two eminent baroque architects. Their ceiling frescos of the Heavenly Jerusalem blend seamlessly with the abbey interior and are particularly noteworthy. Weltenburg Abbey brewery is the oldest abbey brewery in the world. It has been brewing beer since 1050.
Hall of Liberation
The Hall of Liberation, on Michelsberg hill above Kelheim, offers fabulous views of the surrounding area. It is an enormous rotunda commissioned by King Ludwig I of Bavaria (1842-1863) to commemorate the Wars of Liberation against Napoleon. The architect was Leo von Klenze of Munich. The portal and the shields of the victory goddesses inside were cast from the bronze of French canons captured in battle. The hall's internal walls are of multicoloured marble and the floor has a marble mosaic. There are 34 wall niches, each adorned with a goddess of victory in white Carrara marble.
Franciscan Church
The abbey church was built by the Franciscans between 1461 and 1471 using the remnants, it is believed, of a former ducal dairy. The church's 15th-century frescos were uncovered during restoration work. The Last Judgement is depicted on the inside of the choir arch. The church bell, some beautiful wooden figures and paintings by Gebhardt von Prüfening were found in the sacristy and the adjoining cloister to the north. Today the church is home to the Organ Museum, which has a collection of lovingly restored organs that are still played at times.
Top of page
Map of Germany
Map showing all of Germany's TOP travel destinations...
Click here!
Search in surrounding area