Museums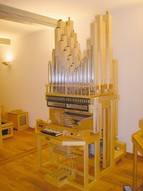 The Archaeological Museum is a great way to step back in time and discover more about Kelheim through exhibits spanning prehistory, early history and the history of the town. The Franciscan Church is home to a collection of historical organs that are still played at times. The Crystal Museum in Riedenburg presents the fascinating world of crystals and gemstones.
Archaeological Museum
The museum is in the late-Gothic "Herzogkasten", a former grain store on the edge of the old quarter. Original finds, illustrations and reproductions are used to trace the development of settlements in the Kelheim region between the Neanderthal era and Kelheim's foundation in the Middle Ages. Highlights include ice-age finds from caves in the Altmühl valley, a remarkable varnish profile of a shaft at the Neolithic flint mine in Arnhofen, urns (different for men and women) from the Kelheim burial ground and finds from the late-Celtic Oppidum Alkimoennis on Michelsberg hill, one of the largest settlements of its day.
Organ Museum
At the heart of the collection in the Franciscan Church are three organs on the upper floor of the cloister: a slider chest organ, an organ illustrating different tonal colours and a combined membrane and cone chest organ. The instruments are all tuned to one another so that concerts can be performed on several organs at a time.
Riedenburg Crystal Museum
The museum's exhibits include brilliantly coloured tourmalines, dazzling precious stones, silver ore and the largest emerald from the Hohe Tauern, an Alpine range known for its emerald deposits. The centrepiece of the exhibition is the world's largest group of rock crystals, which weighs eight tonnes. The Crystal Museum has a range of special exhibitions and is a treasure trove of precious stones, history and legend.
Top of page
Map of Germany
Map showing all of Germany's TOP travel destinations...
Click here!
Search in surrounding area