Suggested excursions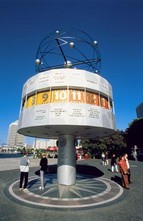 Wustermark is an excellent base for exciting day trips into the surrounding Havelland region. Berlin is right on your doorstep and the former royal city of Potsdam, with its historic palaces such as the wonderful Sanssouci palace and park, is also a popular destination. The town of Brandenburg on the Havel river is also a great place for sightseeing.
Berlin
The events of recent history have left their mark all over Berlin. It is also one of the most dynamic, exciting and diverse capital cities in the world. There's a unique atmosphere to this trendy city: everywhere you go you can feel the vibrant energy - on the streets, at the art and flea markets and in its thousands of bars, pubs and restaurants.
Potsdam
To the south-west of Berlin is Potsdam, summer home of the Prussian Kings. The Potsdam palaces - Sanssouci, New Palace and Charlottenhof - still retain some of the magic of bygone eras, as do the extensive palace grounds dotted with little buildings such as the gilded Chinese Tea House. The centre of Potsdam with its picturesque Dutch quarter and the Russian colony of Alexandrovka with its traditional Russian buildings bring the past back to life.
Brandenburg an der Havel
The town of Brandenburg lies alongside two lakes and the Havel river, and the three historic parts of the town provide lots of opportunities for sightseeing. For example, Brandenburg Cathedral and St. Katharine's church are two particularly impressive buildings. Well worth seeing are the historic town hall and the town walls with their four towers. There is also the Bollmann fountain - around its edge you can read the eight lines of a song in honour of this legendary Brandenburg character.
Top of page
Map of Germany
Map showing all of Germany's TOP travel destinations...
Click here!
Search in surrounding area