Places of interest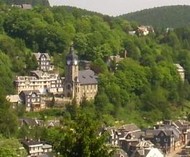 Lauscha - the glassblowing capital and birthplace of glass Christmas tree decorations - is located in an idyllic setting surrounded by the Thuringian Forest. The town is known for its glassblowing tradition stretching back over more than 400 years and has numerous demonstration workshops where visitors can watch the glassblowers at work.
Lauscha Church
Consecrated in 1911, the town's present-day church was built in Art Nouveau style on the site of a small wooden church. Lauscha Church stands on a small hill and can be seen from afar. The colourful stained-glass windows, unusual for a Protestant church, depict various scenes from Christian and secular history.
Coloured glass factory
Glassmaking traditions in Lauscha, the birthplace of glass Christmas tree decorations, stretch back more than 400 years. The impressive tour of Lauscha's coloured glass factory takes visitors back to a time long past. Glassmakers at various workshops are always happy for visitors to watch them at work as they create their unique works of art.
Top of page
Map of Germany
Map showing all of Germany's TOP travel destinations...
Click here!
Search in surrounding area