Shopping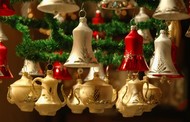 Lauscha has been a famous glassblowing centre since the establishment of its village glassworks in 1597. In addition to the glassworks, the cottage industry of glass bead-making developed in the 18th century and then, from the middle of the 19th century onwards, the first mirrored glass Christmas tree baubles were manufactured here. Today, it's Christmas all year round in Lauscha with a huge range of glassware and Christmas tree decorations on offer at the town's workshops and stores.
Workshops in Lauscha
The glassblowers working in Germany's glassblowing capital produce a variety of glass creations, in particular the famous Christmas tree baubles, at more than 50 studios and shops around the town, many of which are small businesses where one person combines the roles of owner, manufacturer, retailer, and commercial representative at trade fairs around the world. A number of the glassblowers also give public demonstrations.
Coloured glass factory in Lauscha
More than 150 years old and the only pot furnace glassworks in Thuringia still in operation, this factory offers an interesting insight into the art of glassmaking, with the opportunity to watch the glassmakers working at the furnace, glass beads being produced or a slide show on the history of glassmaking in Lauscha. The shops here offer top-quality goods and seconds, vases, bowls, glasses, ornaments, unique pieces handcrafted by the glassblowers of Lauscha and much more.
Museum, Lauscha's "Land of Christmas" and the Krebs factory outlet
Lauscha's Glass museum takes you on a journey from medieval
Waldglas
(forest glass) through to modern glass art, while the museum shop has a selection of exclusive and unique pieces handcrafted by acclaimed glass artists from Lauscha. At the "Land of Christmas", which is set out like a traditional German Christmas market and covers an area of approx. 500 square metres, you can learn about and buy a whole range of Lauscha Christmas tree decorations. Krebs Glas Lauscha in Ernstthal also has a fantastic selection of Christmas tree decorations on offer, with everything from the latest trends to more traditional styles.
Top of page
Map of Germany
Map showing all of Germany's TOP travel destinations...
Click here!
Search in surrounding area