Suggested excursions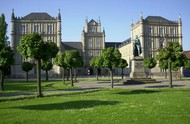 A popular holiday resort, Lauscha is also an ideal base for excursions into the surrounding area. There are a number of tranquil spots waiting to be discovered in the Thuringian Forest and historical towns close to Lauscha for you to explore. Coburg, for example, has many reminders of bygone ages, while Sonneberg is a paradise for any toy enthusiast.
Coburg
The town is dominated by Coburg Fortress, known locally as the "Franconian Crown", which has sat in splendour above Coburg with its mighty walls and towers since 1056. Other impressive buildings include Ehrenburg Palace and Callenberg Castle. But Coburg has many other attractions to offer, including numerous museums such as the Doll Museum, an aquarium, the Church of St. Maurice and the palm house.
Sonneberg
The tranquil town of Sonneberg is not only famous as the home of the German Toy Museum, the oldest national specialist collection of toys. Its many other attractions include the New and Old Town Hall, the municipal art gallery, an aquarium and a number of churches. Towering over the town since the 13th century, Schlossberg hill with its castle is also a fascinating place to visit.
Mount Pappenheim
There's fun for all ages at the summer toboggan run at Ernstthal/Rennsteig near Lauscha. Take the ski tow 500 metres up to the top of Mount Pappenheim before whizzing down the 800-metre-long, winding run. In the winter, Mount Pappenheim is transformed into a skiers' paradise with three different pistes leading through the romantic snow-covered spruce forests. Afterwards, you can warm yourself up with a glass of
glühwein
.
Top of page
Map of Germany
Map showing all of Germany's TOP travel destinations...
Click here!
Search in surrounding area