Places of interest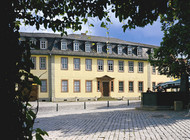 The artistic and cultural importance of Weimar's historical architecture and landscape parks, as well as the town's role as an intellectual centre in the late 18th century, were the reasons for its designation as the "Classical Weimar" UNESCO World Heritage site. A second UNESCO World Heritage site, " Bauhaus sites in Dessau und Weimar", was designated because of the foundation here of the Bauhaus School by Professor Walter Gropius, who had a profound influence on 20th century architecture.
"Classical Weimar" - Goethe and Schiller's houses and Duchess Anna Amalia
Weimar's heyday as an intellectual centre lives on today in the places where its luminaries lived and worked. Goethe's house uses his collections and library to illustrate the writer's life and work. Friedrich Schiller died in his house in 1805 aged only 45. In Wittums Palace, Duchess Anna Amalia assembled members of court with an interest in literature, art and science, writers, artists and scholars from the educated bourgeoisie as well as visitors from near and far to exchange ideas, socialise and undertake their artistic endeavours. The Green Palace, built in 1570, houses the Anna Amalia Library, one of the first royal libraries to be opened to the public.
"Classical Weimar" – Town Church of St. Peter and St. Paul
The church in the centre of the old town is also known as the
Herderkirche
today, after J.G. Herder who was the court chaplain here for 27 years. The most famous of its art treasures is the three-panelled Cranach altarpiece which was started by Lucas Cranach the Elder in the final year of his life and completed by his son.
"Bauhaus sites in Weimar und Dessau" UNESCO World Heritage
The complex of buildings which formed the former art school, the applied arts school and Am Horn House are some of the best examples of Art Nouveau architecture in Germany. The Weimar State Bauhaus was founded here in 1919 under the directorship of Walter Gropius and its work was carried out both here and from 1925 in Dessau.
Top of page
Map of Germany
Map showing all of Germany's TOP travel destinations...
Click here!
Search in surrounding area