Permanent exhibitions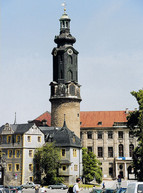 The Goethe National Museum in the heart of the town attracts visitors in droves. Art lovers will be fascinated by the Weimar municipal collections in the Weimar Palace in the eastern part of town. Admirers of the rococo period will appreciate the collection of carriages in the park at Belvedere Palace, formerly a hunting lodge and royal summer residence.
Goethe National Museum and Goethe's house
The house in which Goethe lived for almost fifty years of his life is perhaps the most famous writer's house in Germany. The permanent exhibition in the Goethe National Museum provides a panorama of the best-known period in German literature in the 18th century. A fascinating film gives you a very personal insight into this leading intellectual.
Weimar Palace and the Weimar art collections
The palace with its classical columned hall houses the Weimar art collections. The history of these extensive collections of art from the Middle Ages to the modern day can be traced back to the 16th century. The exhibits include significant paintings from the time of Dürer (Cranach Gallery), the Classical and Romantic periods (Caspar David Friedrich) and the Weimar School.
Belvedere Palace, orangery and carriage collection
The historical rooms of the orangery at the hunting lodge built under the aegis of Duke Ernst August house an exhibition of glassware, porcelain, faience earthenware and hunting weapons dating back to the late 17th and 18th centuries. Coaches, hunting weapons and travelling coaches from the former ducal fleet can be seen in the orangery.
Top of page
Map of Germany
Map showing all of Germany's TOP travel destinations...
Click here!
Search in surrounding area