Permanent exhibitions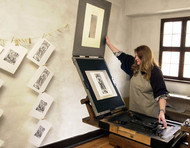 As well the permanent and temporary exhibitions in the art museums, Nuremberg has a number of museums dedicated to the city's history. A permanent exhibition in the Albrecht Dürer House shows the many facets of this Nuremberg-born artist.
Albrecht Dürer House
Albrecht Dürer (1471-1528) lived and worked from 1509 to his death in this house, built around 1420, beneath Nuremberg Castle. The new permanent exhibition shows the many aspects of the artist's work. Visitors will gain an insight into the way people lived around the turn of the 16th century, and see what an artist's studio would have looked like in Dürer's day.
Museum of Industrial Culture
Talking washing machines, visitors frozen into "shadows" and a school class from the early 20th century. In this museum, exhibits become actors and visitors explorers. The individual sections of the museum trace the progress of Nuremberg through the industrial age.
Top of page
Map of Germany
Map showing all of Germany's TOP travel destinations...
Click here!
Search in surrounding area