Shopping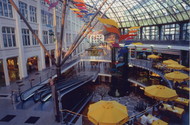 Jena has a wide range of different shopping areas. There are the pretty shopping streets of Wagnergasse and Johannisstrasse, while Oberlauengasse, "Unterm Markt" and Löbderstrasse, offering everything from intimate boutiques in historical buildings to large department stores, are all great places to go shopping. Both the "Goethe Galerie" and "neue mitte" shopping malls offer a more contemporary shopping experience.
Goethe Galerie
The Goethe Galerie shopping mall has over 50 stores selling a wide range of goods. There are big-name fashion stores from Germany and abroad, individual boutiques and a broad selection of other interesting outlets all of which make for a great shopping trip. Shoppers can also take advantage of the cafés, restaurants and other service facilities within the Goethe Galerie.
"neue mitte"
"neue mitte" is the shopping mall in Jena's JenTower. From supermarkets and pharmacies to well-stocked designer boutiques and shoe shops, this shopping centre has everything that your heart desires. And if you need a break from shopping, why not relax a while in one of the pleasant cafés or restaurants.
Medieval market square
Four times a week the traditional "green market" takes place in Jena's medieval market square. The funfair and flea market are also popular, as is the potters' market where around 60 potters and ceramic makers come from all over Germany to sell their handmade items.
Top of page
Map of Germany
Map showing all of Germany's TOP travel destinations...
Click here!
Search in surrounding area