Art & culture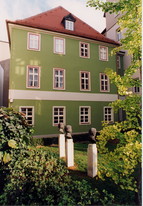 The town of Jena in the wonderful Saale valley is a major centre for art and culture. Famous poets and philosophers have always been drawn to the town and there are still many reminders of them here. These include buildings from the romantic era such as the Romanticist House and Schiller's summer house. The Theaterhaus theatre, the Kurz & Klein cabaret theatre and the Harald Seime mime theatre host a wide range of cultural attractions.
Romanticist House
Today this former philosophers' house is home to a Literary Museum. The exhibitions focus on Jena's early Romantic period against the backdrop of its cultural and intellectual history, and explain why famous literary critics, scientists and philosophers such as Fichte and Schelling, and poets such as Schiller, were magically drawn to Jena.
Schiller's summer house
During the summer months from 1797 to 1799 the famous German poet Friedrich Schiller lived with his family in this summer house near the gates of the town. Visitors can view an exhibition on Schiller's years in Jena as well as the rooms in which Schiller spent much of his time. Also worth seeing is the historic garden where Schiller used to receive important guests such as Goethe and Fichte.
Theatre, cabaret and mime
The best place in Jena to enjoy modern drama productions is the Theaterhaus theatre on Schillergässchen. The Kurz & Klein art theatre on Teutonengasse presents an entertaining cabaret program and the Harald Seime mime theatre offers the finest in mime.
Top of page
Map of Germany
Map showing all of Germany's TOP travel destinations...
Click here!
Search in surrounding area