Nature & greenery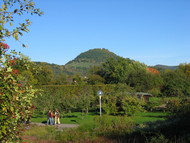 The public park and the municipal gardens in Reutlingen are tranquil, green oases of calm - perfect for relaxing. To stimulate your mind at the same time, visit the "Pomologie", the Institute of Fruit Cultivation (Pomology), in the public park.
Public park and "Pomologie"
Reutlingen's public park dates back to 1860, the year when Germany's first Institute of Fruit Cultivation (Pomology) was founded in Reutlingen by Eduard Lucas. Today the institute, which has an international reputation, is an extensive park in the west of Reutlingen where locals and visitors alike can relax and enjoy the peace and quiet.
Municipal gardens and "Planie"
The "Planie", an avenue of chestnut trees and lime trees laid out in the 19th century, runs from the Hermann Kurz monument near the Church of St. Mary, past the Kaiser Wilhelm monument to the municipal gardens.
Top of page
Map of Germany
Map showing all of Germany's TOP travel destinations...
Click here!
Search in surrounding area