Suggested excursions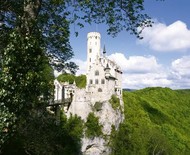 Reutlingen lies at the foot of the Swabian Alb. It is surrounded by glorious countryside that is wonderful to explore on a walk or a gentle stroll. There are fascinating natural highlights to see, including the Bear Cave. Those interested in history and culture should head for Lichtenstein Castle.
Swabian Alb
The highland scenery of the Swabian Alb has different charms depending on the season. In spring, when the fruit trees are in blossom, the valleys are quite stunning. In summer, the dense beech forests offer welcome respite from the sun. In the autumn, the magnificent foliage colours are simply breathtaking. In winter, you can go for walks and admire the beauty of the magical snowy landscape.
Dreamland leisure park at the Bear Cave
With its fairytale forest, rides, animals and delightful barbecue areas, Dreamland at the Bear Cave is the perfect destination for all nature lovers. Please note that the park is closed from November to the end of March. During this time, you can visit the nearby dripstone grotto at the Bear Cave instead, which was inhabited by cavemen around 8,000 years ago.
Lichtenstein Castle
The fairytale Württemberg castle was built between 1839 and 1842 on the remains of a medieval fortification. It is perched on a crag high above the Echaz valley and was also previously a hunting lodge. There is a footpath to the castle from Lichtenstein-Honau.
Top of page
Map of Germany
Map showing all of Germany's TOP travel destinations...
Click here!
Search in surrounding area