Conferences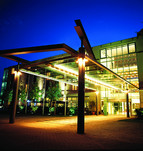 Conference hotels and venues in attractive surroundings are ideal for all kinds of events.
Kongresshotel by Lake Templin
The Kongresshotel is situated on the shores of Lake Templin in a beautiful forested area. Located just a few minutes from Potsdam and with Berlin easily accessible, the hotel can accommodate up to 350 people in its comprehensive conference facilities that are equipped with the latest in event technology.
Dorint Novotel Berlin - Potsdam Sanssouci
This state-of-the-art conference hotel boasts up to 720m² in a number of conference rooms. Cutting-edge communications technology complements the hotel's comprehensive conference packages.
BlauArt conference centre
Situated on an inlet in the Havel River in Potsdam, the BlauArt conference centre can host a variety of events for up to a maximum of 350 people, tailored to the client's individual needs. Guests can expect a friendly atmosphere and unspoilt waterside surroundings close to Sanssouci Palace and Babelsberg film park.

Contact:
Stadtverwaltung Potsdam
Bereich Marketing
Friedrich-Ebert-Str. 79/81
14469 Potsdam
Email: tourismus-service@potsdam.de
Website: www.potsdam.de
Top of page
Map of Germany
Map showing all of Germany's TOP travel destinations...
Click here!
Search in surrounding area