Permanent exhibitions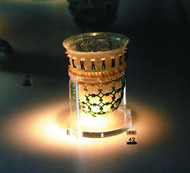 Permanent exhibitions offer an interesting insight into Cologne's history and a range of specific themes. One of the most important collections of art from the Middle Ages is on display at the Schnütgen Museum. The Chocolate Museum is a fascinating experience, not only for those with a sweet tooth.
Schnütgen Museum
Schnütgen Museum in Cologne houses one of the world's most important collections of art from the Middle Ages. The permanent exhibition includes new acquisitions as well as restored masterpieces. It covers art from the Middle Ages, masterpieces from Carolingian times through to historicism, art treasures in bronze, silver, gold and ivory, wood and stone sculptures, glass paintings and textiles.
Museum of Applied Art
The museum provides an ever-expanding showcase for one of the most important German collections of applied European art from the Middle Ages to the present day and 20th century design. The exhibition takes you on a tour through various historical periods with furniture and wall hangings, table culture, instruments and textiles, as well as small sculpture and a range of luxury and decorative objects.
Chocolate Museum
The Imhoff-Stollwerk Chocolate Museum stands on the site where ships docked and people traded in the Middle Ages in Cologne. The exhibition tour takes you on a journey through 3,000 years of chocolate-making history. Chocolate lovers will learn the secrets of chocolate, from the worship of cocoa by natives of Central America to modern-day chocolate production.
Top of page
Map of Germany
Map showing all of Germany's TOP travel destinations...
Click here!
Search in surrounding area