Suggested excursions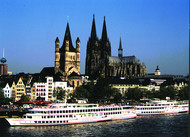 There is a wide choice of leisure activities in Cologne. The city is the ideal location for a stroll or shopping spree whatever the weather. Alternatively, you can visit one of the many museums, take a look behind the scenes at the WDR, Germany's largest broadcaster, enjoy a barbecue or visit the zoo. And if you want to get out of the city, there are plenty of places to visit in the surrounding area.
Phantasialand
An enchanting atmosphere, thrilling attractions and award-winning shows - that is what visitors can expect at Phantasialand in Brühl near Cologne. Six lovingly prepared themed areas with over a hundred attractions and spectacular shows await visitors of all ages.
Königswinter and Drachenfels ruins
Königswinter is situated on the Rhine in the Siebengebirge hills. It has a lively old town and one of the most beautiful promenades along the banks of the Rhine. There's plenty of opportunity for recreation in the Siebengebirge hills, Germany's oldest nature conservation area. Few other towns along the Rhine offer such spectacular views of the Rhine Valley and the Siebengebirge hills.
Rhine riverboats
The Rhine is as much a part of the city as Cologne cathedral or the carnival. Various companies operate riverboats on the Rhine. Whether you are planning a day trip, a short tour of Cologne or an evening event on board, a Rhine cruise is an absolute must on any visit to Cologne.
Top of page
Map of Germany
Map showing all of Germany's TOP travel destinations...
Click here!
Search in surrounding area