Seminar venues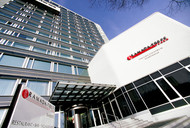 The comprehensive facilities of Kassel's hotels can play host to a wide range of events. The best-known include the Ramada-Treff Plaza, the Mövenpick Hotel and the Waldhotel Schäferberg/Ringhotel, all of which are equipped with state-of-the-art technology and an all-embracing range of services.
Ramada-Treff Plaza Kassel
The nine air-conditioned conference rooms in the Ramada-Treff Plaza hotel can be arranged in a variety of different ways and can accommodate conferences, seminars and other functions for up to 300 people.
Mövenpick Hotel Kassel
The Mövenpick Hotel is available for conferences and events for up to 280 people. It is particularly notable for its central location with a range of shops and museums within walking distance
Waldhotel Schäferberg/Ringhotel Kassel
Kassel's Waldhotel Schäferberg has a cosy yet exclusive ambience which stems from its quiet location on the fringes of Reinhardswald forest. An experienced, friendly team and a variety of rooms for up to 300 people are on hand for conferences and events.
Top of page
Map of Germany
Map showing all of Germany's TOP travel destinations...
Click here!
Search in surrounding area