Conferences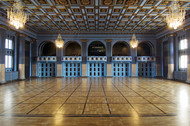 The conference and convention town of Kassel boasts a central location in Europe and good transport links. Its best-known and largest event venue is without doubt the Kongress Palais Kassel, which has a comprehensive range of modern facilities in historic surroundings. Similarly versatile premises are found in Its somewhat smaller counterpart, Kassel's Anthroposophy Centre.
Kongress Palais Kassel
The staff of the Kongress Palais provide a one-stop service, drawing on years of experience to help organise events for up to 2,000 people in its fabulous surroundings. And behind the building's historical fašade you'll find the latest in media technology.
Anthroposophy Centre in Kassel
The various conference rooms of Kassel's Anthroposophy Centre are hired out by the Kassel GbR cultural partnership and can accommodate groups of up to 600 people. Situated in the prestigious district of Bad Wilhelmshöhe, its location is particularly advantageous because of its proximity to the railway station and its charming surroundings with a wealth of restaurants and hotels.
Contact:
Kongress Palais Kassel - Stadthalle
Friedrich-Ebert-Str. 152
34119 Kassel
Email:
info@kongress-palais.de
Website:
www.kassel-tourist.de
Top of page
Map of Germany
Map showing all of Germany's TOP travel destinations...
Click here!
Search in surrounding area