Events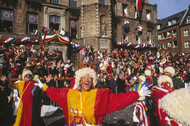 There's no time to be bored. There's always something going on in Düsseldorf, all year round.
"boot Düsseldorf"
The International Boat Show takes place at Düsseldorf's exhibition centre. Huge yachts have always been a hallmark and major attraction of "boot Düsseldorf". Not every visitor can afford one of these fabulous luxury craft, but few can help being fascinated.
Musical
Popular musicals are staged at the Capitol Theater, Düsseldorf's musical theatre.
Jazz Rally
With 80 concerts at 30 venues, for three whole days Düsseldorf is transformed into a swinging, dancing city.
Top of page
Map of Germany
Map showing all of Germany's TOP travel destinations...
Click here!
Search in surrounding area