Food & drink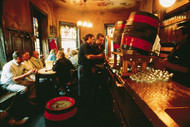 The legendary Rhenish
joie de vivre
and sociability is evident wherever you go in Düsseldorf. What will it be? An espresso on one of the elegant café terraces on the "Kö"? A refreshing glass of Düsseldorf altbier in one of the traditional brewpubs? A candlelit dinner in a gourmet restaurant or a takeaway pizza? Take your pick in Düsseldorf's old quarter where there are more than 260 bars and restaurants.
Brewpubs
Düsseldorf is the birthplace of
altbier
. No visitor should leave Düsseldorf without having visited one of the well-known brewpubs in the old quarter.
Im Schiffchen
Long-time holder of three Michelin stars, Jean-Claude Bourgueil celebrates French cuisine at "Im Schiffchen" in Kaiserswerth. With its historical town centre, idyllic lanes and squares, Kaiserswerth on the northern bank of the Rhine provides the perfect, picturesque setting for Bourgueil's creations.
Hummer Stübchen
Besides variations on the theme of lobsters (
Hummer
in German), this small, elegant restaurant serves up a range of culinary delights, all prepared with the same skill and attention to detail.
Top of page
Map of Germany
Map showing all of Germany's TOP travel destinations...
Click here!
Search in surrounding area