Medical facilities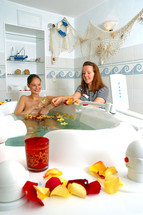 The former small fishing village on the Dithmarschen coast was officially designated as a North Sea health resort as early as 1837. Since then Büsum has developed into a popular and lively spa resort which has lost none of its natural charm and Nordic maritime character. In Büsum you can fully experience and benefit from the natural power of the North Sea.
Erlengrund mother and child spa centre
This spa centre is located right alongside the dyke and offers treatments for respiratory illnesses, lung disease, children's illnesses, as well as parent and child health treatments.
Gode Tied church spa centre and sanatorium
This spa centre offers rehabilitative and preventative treatments for mothers and children.
Top of page
Map of Germany
Map showing all of Germany's TOP travel destinations...
Click here!
Search in surrounding area