Art & culture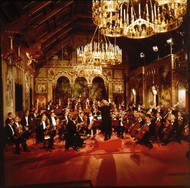 Schwangau and the surrounding villages have much to offer in terms of art and culture, in addition to the famous royal castles. The festival hall on Lake Forggensee is set against the breathtaking backdrop of Ludwig's castles. Experience life in Roman times, including their bathing culture, at the foot of Tegelberg mountain. The Wieskirche Pilgrimage Church on a small rise in open ground can be seen by its many pilgrims from afar.
Neuschwanstein Festival Hall
The setting of the festival hall in a baroque garden in the town of Füssen on the shores of Lake Forggensee is one of the most dramatic in Germany. This beautiful reservoir covering 45,000 m² is the fourth largest body of water in Bavaria, with the Allgäu Alps and Neuschwanstein Castle forming a picturesque backdrop.
Tegelberg mountain Roman baths
In 1934 the first traces of an extensive Roman country estate (
villa rustica
) dating back to the middle of the 2nd century A.D. were discovered in the shadow of Tegelberg mountain. The estate buildings also included a Roman bathhouse which is an impressive example of ancient architecture. The floors and walls were heated using an elaborate system called a "hypocaustum" through which hot air circulated beneath the floors and percolated through pipe-like bricks in the walls. The Roman bath is also known for its frescoes.
Wieskirche Pilgrimage Church
The Wieskirche Pilgrimage Church, a UNESCO world heritage site, is considered one of the finest rococo buildings in the world and attracts millions of visitors to the foothills of the Alps each year. As known as the "Pilgrimage Church of the Scourged Saviour", it is one of the few 18th century churches to have been preserved in its original condition. The church was built by Dominikus Zimmermann between 1745 and 1754 working with the best artists of the age to create the undisputed pinnacle of Bavarian rococo architecture.
Top of page
Map of Germany
Map showing all of Germany's TOP travel destinations...
Click here!
Search in surrounding area