Suggested excursions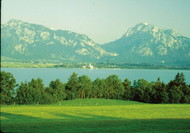 This is a great region for walking, cycling and excursions. The climatic health resort of Schwangau has plenty to offer in the way of attractions and beauty spots and is on the Romantic Road - a total of 350 kilometres to explore. Via Claudia Augusta follows the course of ancient Roman roads through ever-changing countryside and the Zugspitze, the highest mountain in Germany, is not far away.
Romantic Road
For more than 50 years, the golden trio - nature, culture and warm hospitality - have been the hallmarks of the Romantic Road. Magnificent stately homes, palaces of courtly splendour and medieval timber-framed architecture follow in quick succession. The Romantic Road really lives up to its name, leading from the picturesque Lechfeld plain through Pfaffenwinkel - a region in the foothills of the Upper Bavarian Alps that is home to farmers, artists and monks - to the fairytale castles.
Via Claudia Augusta
The Via Claudia Augusta was built by the Romans almost 2,000 years ago as the only imperial road across the Alps. It stretched from the Adriatic town of Altinum near Venice across the Reschen Pass and the Fern Pass to the Danube. This 500-kilometre military supply route was for centuries the most important connection between the Roman motherland and its rich provinces to the north. Entire sections of Roman road, bridges and milestones - wherever you go you come across remains of the 2,000-year old road and reminders of what life was like on and alongside it.
Zugspitze
The Zugspitze is Germany's highest mountain at exactly 2,962 metres high. It is part of the Wettersteingebirge mountain range in the Northern Calcareous Alps and forms the border between Germany and Austria. Germany's highest skiing area, and its only glacial ski slopes are on the Zugspitze plateau. From its summit, which is accessible via the Eibsee cable car or the Bavarian Zugspitze railway, the panoramic views of the surrounding peaks are unparalleled.
Top of page
Map of Germany
Map showing all of Germany's TOP travel destinations...
Click here!
Search in surrounding area