Schmallenberg / Bad Fredeburg - Other areas of interest
Top of page
Nature & greenery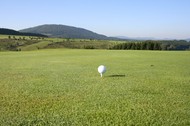 Along with the nearby spa resort of Bad Fredeburg, Schmallenberg in the Upper Sauerland is located in one of the most scenic areas of North Rhine-Westphalia. If you are looking for unspoilt countryside, this is the place for you. The golf course is the ideal place for a spot of exercise in the fresh air, the Rothaargebirge hills nature reserve is a wonderful destination, both in summer and winter, and Germany's fascinating subterranean world attracts thousands of visitors every year.
Golf course
Set on a hilly plateau at an altitude of 420-470 metres, the Schmallenberg's panoramic golf course is a paradise for any keen golfer, offering spectacular views of the Hunau and Rothaargebirge hills. The course is renowned for its natural, well-maintained grounds and its warm, sporting atmosphere. The club's extensive programme includes open competitions, training sessions for beginners and more advanced golfers, free training for children and young people, and free use of the driving range.
Rothaargebirge hills nature reserve
Covering an area of 1,355km², the Rothaargebirge hills nature reserve is set in the delightful highland scenery between the upper Ruhr and Lahn rivers. You'll find a variety of springs on the slopes of the Asten massif with Mount Kahler Asten, the peaks of the Wittgenstein hills and woodlands, and the northern Siegerland region, including the sources of the Ruhr, Eder, Sieg, Lahn, Lenne and many other rivers that criss-cross the region. An extensive network of walking and cycling trails enables visitors to get out into the surroundings and visit the many local sights.
Atta Cave or Attendorn's dripstone cave
Formed over millions of years, one of Germany's largest natural wonders can be found in the southern Sauerland region. With countless stalagmites and stalactites, some as long as 4 metres, this "magic mountain" is a truly unforgettable sight. Visitors can walk through this vast system of caves on easily accessible and secure pathways. The tunnels are known to run for at least 2,000 metres and the air temperature inside is 9°C. The "health cave" is the perfect place to relax, enjoy the captivating tranquillity and amazing lighting, and experience the beneficial effect of the underground air.
Top of page
Map of Germany
Map showing all of Germany's TOP travel destinations...
Click here!
Search in surrounding area