Schmallenberg / Bad Fredeburg - Other areas of interest
Top of page
Art & culture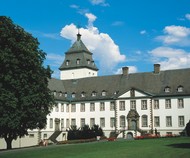 Art and culture is abundant in the Sauerland and it seems more down-to-earth here than elsewhere. Timber-framed houses with natural slate roofs and carved doors are a typical feature in Schmallenberg. Other attractions include Grafschaft abbey, now the mother house of the congregation of Borromean Sisters. You can also enjoy the outstanding sports and culture on offer at the "culture cave" in Balve or visit the museums at Altena Castle to see knights, a blacksmith's workshop, travelling folk, the wire museum and much more besides.
Museum at Grafschaft abbey
Grafschaft abbey celebrated its 925th anniversary in 1997 by opening a museum about its art and history. In addition to the abbey's buildings and their architectural sculpture, visitors to the museum can see liturgical equipment, paraments, reliquaries and books from the abbey library. All of the exhibits give an insight into Benedictine and Borromean monastic culture. Paintings and stone fragments from the old abbey church are on display in the cloister.
Europe's largest "culture cave"
Europe's foremost Stone Age "culture cave" in Balve is
the
place for cultural enthusiasts as well as a very special venue for a whole range of musical events, theatre performances and festivals. It is 11 metres high, 20 metres wide and has a 54-metre-long main "hall". Relics of human cultures covering seven different settlement periods have also been found in this glacial cave.
Museums at Altena Castle
One of the most beautiful clifftop castles in Germany, Altena Castle sits up on high overlooking the old wire-drawing town of the same name. Its fortifications, which were started in the 12th century, will delight any fan of romantic castles. The castle owes its fame to the first permanent youth hostel, which was opened here in 1912. Still in its original condition, the international youth hostel is now a museum. However, the main museum at the castle is the Mark regional museum. The exhibits cover a whole spectrum from geological prehistory to the Middle Ages, and from the early modern period and the industrial age through to the present day. Lavish displays give visitors an insight into the battles fought and the hunting expeditions and banquets enjoyed by the knights and lords who once lived here. You will also learn a lot about how the local farmers and craftsmen lived.
Top of page
Map of Germany
Map showing all of Germany's TOP travel destinations...
Click here!
Search in surrounding area