Schmallenberg / Bad Fredeburg - Other areas of interest
Top of page
Events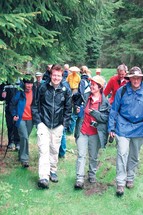 The people of Schmallenberg love a good party and each season is celebrated in its own very special way. One of the reasons for this are the close ties with the Rhineland Carnival. A highlight for keen walkers, the "Hollenmarsch" hike is one of the region's most challenging sporting events. The "culture cave" in Balve is known throughout Germany for its top-notch sporting and cultural events. Alternatively, you can follow in the footsteps of Winnetou and Old Shatterhand at the Karl May Festival in Bad Elspe.
Bödefeld's Hollenmarsch
Every year in the middle of May, it's time to don your walking boots and sling your knapsack over your shoulders. But make sure you take plenty of plasters with you. Everyone from keen walkers and nature enthusiasts to first-time ramblers come to take part and enjoy the spectacular scenery on 15, 25, 35 or 45-km day tours, while hardcore hikers can cover up to 101 kilometres in one go. The service points along the route provide light snacks, refreshing drinks and first aid for blisters and other minor ailments.
International Jazz & Blues Festival
The Jazz & Blues Festival takes place at the "culture cave" in Balve every year in the middle of June. More than 100 artists from 14 countries come to perform in the cave. Visitors can enjoy more than 17 hours of jazz, blues, funk and soul.
Karl May Festival
Every year, thousands of visitors flock to Bad Elspe between June and September to enjoy a Western show with amazing special effects. Alongside the open-air theatre, there's also a show hall and arena. This much loved tale of American Indians is always a popular attraction.
Top of page
Map of Germany
Map showing all of Germany's TOP travel destinations...
Click here!
Search in surrounding area