Suggested excursions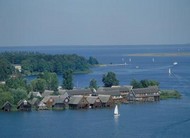 Rheinsberg is the perfect base for excursions into the picturesque Ruppiner Land area to towns such as Neuruppin, the birthplace of the author Theodor Fontane and gateway to the "Ruppin Switzerland" region, or for roundtrips along the German Ceramics Route from the town of Velten. The Mecklenburg Lakes, Germany's largest contiguous lakeland area, are also well worth a visit. The Rheinsberg Lakes are linked by lots of little canals and can be explored either by canoe or by rowing boat.
Neuruppin
Neurippen, 28km outside Rheinsberg, is the birthplace of the important German author Theodor Fontane and contains a large number of cultural monuments to the writer such as the house where he was born. This town with its early classical-style architecture is also referred to as the gateway to the "Ruppin Switzerland" region. The abbey church of the Holy Trinity, which dates back to the 13th century, is the town's most famous landmark and is located right on the 14km long Lake Ruppin.
German Ceramics Route
The 215 km long German Ceramics Route passes through north Brandenburg and the fascinating landscape of the Ruppiner Land region. Thick layers of banded clay were deposited here towards the end of the Ice Age and has mainly found use as a raw material for construction and ceramics manufacture. There are lots of interesting museums and cultural attractions which bring the history of clay to life. Workshops and galleries give visitors rich insights into the creative skills and craftsmanship of previous generations.
Mecklenburg Lakes
The Mecklenburg Lakes are located 57km outside Rheinsberg and make up Germany's largest contiguous lakeland area. More than one thousand lakes, both large and small, are connected to each other by rivers and canals. Covering an area of 117 square kilometres at the heart of this water sports paradise, Lake Müritz is the largest lake in Germany. Shady tree-lined avenues and occasional cobbled street lead to villages whose farmsteads and houses have retained much of their original charm.
Top of page
Map of Germany
Map showing all of Germany's TOP travel destinations...
Click here!
Search in surrounding area