Places of interest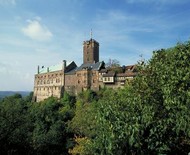 Along the Rennsteig trail there are a number of pretty places with a wealth of history. Goethe, Schiller and Bach all found inspiration here for their work. The region has much to offer all year round, from walking in the summer to skiing in the winter. You'll also find a number of interesting small towns such as Bad Liebenstein, Friedrichroda and Eisenach.
Eisenach
Some of the most well known places of interest in Eisenach are Bach's House on Frauenplan, Luther's House, the market square and town hall, and the Stadtschloss (town palace). But the most famous of all is Wartburg Castle. A UNESCO World Cultural Heritage site, the castle dates from the 11th century. This is where Martin Luther translated the New Testament into German. Wartburg Castle is also associated with the Battle of the Bards, Saint Elisabeth and the gathering of student fraternities in 1817.
Marienglashöhle cave in Friedrichroda
Visitors to the disused mine can learn all about the origins of the Thuringian Forest and mining around Friedrichroda. Discovered in 1778, the crystal cave is considered to be one of the largest and most beautiful in Europe. The gypsum crystals mined here were used to decorate pictures of the Virgin Mary, hence the name Marienglas ("Mary glass"). At the bottom of the cave there is a lake with enchanting reflections.
Bad Liebenstein
This idyllic town is one of Germany's oldest spa resorts. Bad Liebenstein's signature attraction is the Old Post Office in the town centre, a timber-framed house dating from the 19th century. Lybenstein castle ruins are a popular excursion destination and meeting place for hikers. Other attractions include Elisabethpark, the spa quarter with the spa theatre and Palais Weimar, and Herzog-Georg-Strasse.
Top of page
Map of Germany
Map showing all of Germany's TOP travel destinations...
Click here!
Search in surrounding area