Suggested excursions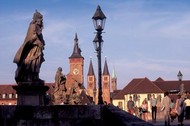 The "green heart" of Germany is close to a number of towns and cities that are well worth a visit. Erfurt with its famous Merchants' Bridge, Kassel with its beautiful Wilhelmsthal Palace or Würzburg with its prince bishops'
Residenz
Palace - the choice is yours.
Erfurt
Its medieval heart is one of the best-preserved anywhere in Germany. Even today, Erfurt's wealthy past is reflected in its lovingly restored Renaissance buildings, half-timbered houses, churches, abbeys and the remarkable Merchants' Bridge (
Krämerbrücke
), the longest bridge in Europe to have houses along its entire length and the most interesting secular construction in Erfurt. Other attractions include Cathedral Hill with St. Mary's Cathedral and the Church of St. Severus, and the Augustinian Monastery with its memorial to Martin Luther.
Kassel
Kassel - the town in the heart of Germany - has something for everyone: in addition to its palaces, parks and museums, there's the
documenta
, one of the world's largest exhibitions of contemporary art. Kassel is the main town on the German Fairytale Route and its Bad Wilhelmshöhe district is a spa centre. Karlsaue, a baroque park on the banks of the River Fulda, and Wilhelmsthal Palace, a summer residence and hunting lodge, are also well worth a visit.
Würzburg
Würzburg is an ancient episcopal seat and a lively university town with a baroque, distinctly southern feel. It is in an idyllic setting surrounded by vineyards and dominated by architectural splendours that reflect a range of epochs. Würzburg's main places of interest are the magnificent prince bishops'
Residenz
Palace, an impressive example of Mediterranean baroque architecture, and the mighty Marienberg Citadel. St. Kilian's Cathedral in the historical old quarter is also well worth seeing.
Top of page
Map of Germany
Map showing all of Germany's TOP travel destinations...
Click here!
Search in surrounding area