Events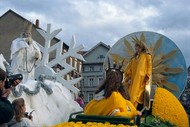 Visitors can enjoy a broad range of events in the region around the Rennsteig and throughout the whole of Thuringia. The spring is traditionally welcomed in just before Easter in Eisenach, beds are used for quite a different purpose in Friedrichroda in the summer, and the whole of Thuringia celebrates the life and works of Bach for a few days every year.
"Sommergewinn" (summer prize) - spring festival in Eisenach
Traditionally, the people of Eisenach start to drive winter out of the town three weeks before Easter. They do this by organising one of Germany's largest spring festivals, the Sommergewinn. Established in 1897, the festival begins every year with a parade through the town centre. Then, a dispute breaks out between Mr Winter and Mrs Sunna, the symbol of spring, on market square. The ritual ends with the burning of a straw doll, used to symbolise winter.
Thuringian Bach Festival
The Thuringian Bach Festival takes place every March in honour of the composer, Johann Sebastian Bach. A number of concerts are held in the Bach towns of Eisenach, Arnstadt, Mühlhausen, Ohrdruf and Weimar. It is considered one of the leading festivals of baroque music in Germany.
International Bed Race in Friedrichroda
The International Bed Race takes place in the climatic health resort of Friedrichroda every summer. The event lasts for several days and kicks off with a festival parade featuring teams with their decorated beds. The race mainly runs through the town centre and features four challenges. The first of these is wood sawing, followed by clambering over a lorry. The teams then have to put together a jigsaw puzzle before finally coming to the water crossing - a highlight for the teams and spectators.
Top of page
Map of Germany
Map showing all of Germany's TOP travel destinations...
Click here!
Search in surrounding area