Art & culture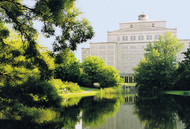 Leipzig's international reputation as a city of music is inextricably linked with Johann Sebastian Bach and with the Gewandhaus Orchestra, which also plays for productions at Leipzig Opera House and with St. Thomas's Choir at St. Thomas's Church. The opera house has very close associations with Richard Wagner, who was born in Leipzig. Great musicians such as Felix Mendelssohn, Robert Schumann and others also contributed to the flourishing of the city's music and opera. Leipzig also has many contemporary comedy shows, theatres and jazz bars.
Gewandhaus concert hall
More than 600 events take place every year at the Gewandhaus concert hall. The Gewandhaus Orchestra's "Große Concerte" series are the backbone of the programme, but there are also concerts by the Gewandhaus Choir and Children's Choir and by many chamber music ensembles, particularly the long-established Gewandhaus Quartet, the Gewandhaus Wind Quintet and the Gewandhaus Octet.
Leipzig Opera House
This acclaimed opera house has a tradition going back to 1693. It is home to one of Europe's top ballet ensembles, an opera chorus, a children's chorus and a ballet school. Musicals and operettas are performed at the historical Haus Dreilinden, the musical comedy theatre. Leipzig Opera has twice received the European Opera House of the Year award.
St. Thomas's Choir at St. Thomas's Church
St. Thomas's Choir originally sang at church services in St. Thomas's. As cantor, J.S. Bach was Leipzig's de facto town music director. St. Thomas's Choir is deeply indebted to Bach's rich musical legacy. Every Friday and Saturday, they can be heard performing cantatas and motets, except for school holidays and when the choir is on tour.
Top of page
Map of Germany
Map showing all of Germany's TOP travel destinations...
Click here!
Search in surrounding area