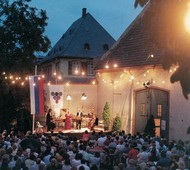 The festival started as a series of 19 concerts and over the course of time has grown to more than 100. Attracting several hundred visitors every year, the festival prides itself on the quality of its music – whether it is classical music from a range of eras, jazz or cabaret.
Classical music in a refined setting
The Rheingau Music Festival is one of the leading music festivals in Europe, attracting people to all corners of the region between Frankfurt, Wiesbaden and Lorch. Every year the festival programme includes oratorios in Eberbach Abbey, chamber concerts in Johannisburg Palace, comedy evenings in traditional wineries, symphony concerts in Wiesbaden spa assembly rooms, as well as romantic cruises on the Rhine.