Museums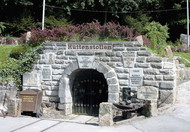 Hamlyn Museum is well worth a visit, not just for its impressive Pied Piper exhibition. The museum in Coppenbrügge Castle has exhibits on natural history and historical craft workshops, and the Mining Museum in the village of Osterdorf, housed in a former coal mine, brings this industry to life for visitors.
Hamlyn Museum
Hamlyn Museum is located in the centre of town, within the elegant Renaissance buildings of the canons' house and
Leisthaus
. There are permanent exhibitions on the tale of the Pied Piper, the history of the town, minting technology and the Weser river boats. One special attraction is an unusual collection of walking sticks from the past two hundred years.
Coppenbrügge Castle Museum
15km outside Hamlyn lies Coppenbrügge with its fascinating castle. Constructed in 1303 as a moated castle by the Counts of Spiegelberg it has housed a museum since 1985. Apart from its exhibits on geology and natural history the museum also features cobbler's and potter's workshops from the last century. The 500 to 700 year old linden tree on the castle wall is a spectacular natural monument.
Osterwald Local History and Mining Museum
The former coal mine in the village of Osterwald, 25km from Hamlyn, is now a visitor mine, bringing the tough underground world of the miners to life. The adjoining museum has exhibits on mining and the history of the village of Osterwald.
Top of page
Map of Germany
Map showing all of Germany's TOP travel destinations...
Click here!
Search in surrounding area