Events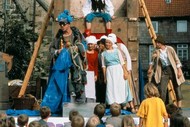 One highlight of a trip to Hamlyn is the daily glass-blowing demonstration in the gunpowder tower. The popular short musical "Rats" is a humorous version of the tale of the Pied Piper.
Glass-blowing demonstration
In the glass-blowing workshop in the gunpowder tower visitors can watch a glassblower at work. During the short demonstration he makes fascinating shapes out of this fragile material from a lump of glass heated to 1,200 °C. You can even try your hand at it and make your own glass object using the glassmaker's pipe.
"Rats" the musical
The musical "Rats" is performed on the terrace of the Wedding House from May to September. In addition to the popular open-air plays, this humorous musical uses all sorts of different styles of music to bring the tale of the Pied Piper to life in a new way.
Top of page
Map of Germany
Map showing all of Germany's TOP travel destinations...
Click here!
Search in surrounding area