Places of interest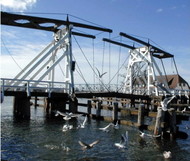 The vibrant university and Hanseatic town of Greifswald is situated on the small river Ryck between the islands of Rügen and Usedom on the Greifswald lagoon. It lies on the European Route of Brick Gothic Architecture and is known for its picturesque churches and the old town with its magnificent gabled houses. Another local attraction is the fishing village of Wieck with its historical drawbridge.
Church of St. Mary and St. Nicholas' Cathedral
The imposing brick Gothic church of St. Mary dates back to the year 1250 and houses some magnificent treasures, such as a 16th-century wood carving in St. Anna's Chapel or the medieval frescos from 1411 on the south-western side. St. Nicholas' Cathedral, one of Greifswald's famous landmarks, has an impressive 100 metre steeple and fascinating late-Gothic wall paintings. This is where the Romantic painter Caspar David Friedrich was baptized.
Old town
Among the oldest buildings in Greifswald are two impressive brick-built gabled houses which date back to the Hanseatic era. Their frontages are richly decorated with ornaments and gemstones, making them stand out from the other buildings on the market square. The splendid town hall near the pharmacy is worth a visit and not only to see its medieval arcades.
Wieck fishing village
The charming little fishing village of Wieck lies on the river Ryck at the point where it flows into Greifswald lagoon. Well worth seeing here are the historical drawbridge that links the villages of Wieck and Eldena, the quiet harbour with fishing boats, the brigantine "Greif", formerly a navy training ship, and the wooden sculptures along the promenade.
Top of page
Map of Germany
Map showing all of Germany's TOP travel destinations...
Click here!
Search in surrounding area