Suggested excursions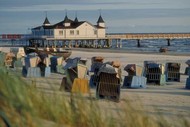 Greifswald's location amid the stunning scenery of the holiday region between the Mecklenburg Lakes and the Baltic coast makes it the perfect base for day trips to the surrounding area. The Darss peninsula and the islands of Rügen and Usedom are waiting to be explored, and a tour through the Western-Pomeranian
Boddenlandschaft
national park is an unforgettable experience. The two Hanseatic towns of Stralsund (34km) and Rostock (99km) have a maritime feel.
Western-Pomeranian Boddenlandschaft National Park
The Western-Pomeranian
Boddenlandschaft
national park is not far from Greifswald, stretching from the Darss-Zingst peninsula along the coast towards the western waters around Rügen and Hiddensee islands. The national park is famous for its diverse landscape and is home to a number of endangered species of plants and animals such as grey seals, white-tailed eagles and sea holly. A visit to the national park is lovely at any time of the year.
Stralsund
The nearby Hanseatic town of Stralsund, only 34km from Greifswald, is a UNESCO World Heritage site, together with the town of Wismar. The town has a distinctly maritime feel with its colourful gabled houses, impressive brick buildings, vibrant harbour and museums steeped in history. The German Oceanographic Museum and aquarium are also well worth a visit.
Usedom Island
Usedom island lies around 40km east of Greifswald between Szczecin lagoon and Greifswald lagoon. Ideal for a day trip or just to get away from it all. Discover the delightful hinterland and the traditional spa resorts with their maritime origins such as Zinnowitz, Heringsdorf and Ahlbeck with its famous pier, and their beautiful, sandy beaches stretching as far as the eye can see.
Top of page
Map of Germany
Map showing all of Germany's TOP travel destinations...
Click here!
Search in surrounding area