Events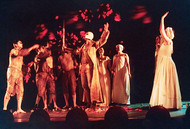 Even outside festival time, Bayreuth is a lovely place to visit, not least for its many other cultural highlights. There are numerous musical performances throughout the whole year.
Bayreuth Easter Festival
Bayreuth Easter Festival presents outstanding concerts by the International Orchestra Academy from classical to jazz in the Margravial Opera House and other historical venues.
Bayreuth Baroque
The "Bayreuth Baroque" festival is an opportunity to immerse yourself in the fascinating world of the baroque, and to experience baroque productions of the highest calibre in the exquisite setting of the Margravial Opera House.
Franconian Festival
The annual Franconian Festival hosted by Bayreuth has been an integral part of the town's cultural calendar since 1949. Opera and ballet performances presented in the glamorous setting of the Margravial Opera House are popular with locals and visitors alike.
Top of page
Hotel search

Looking for an accommodation?
Search and book hotels in Germany »
Map of Germany
Map showing all of Germany's TOP travel destinations...
Click here!
Search in surrounding area