Suggested excursions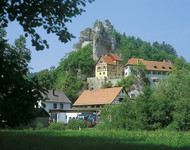 Its fabulous setting between the densely wooded Fichtelgebirge mountains and romantic Franconian Switzerland makes Bayreuth the ideal base for excursions into the beautiful countryside of the region.
Fichtelgebirge
Gently rolling hills and dense forests are the characteristic features of the Fichtelgebirge region. This is nature at its best, but with plenty of fascinating man-made attractions too, such as a medieval silver ore mine or the cable cars up to the 1,000 metre Ochsenkopf.
Franconian Switzerland
Plunging valleys, idyllic little rivers and impressive rock formations shape Franconian Switzerland, a paradise for cyclists, canoeists and rock climbers. Numerous castles and dripstone caves are waiting to be discovered, and a visit here would not be complete without trying a freshly drawn beer at one of the 100 or so small breweries.
Franconian Forest
The Franconian Forest, also known as "Bavaria's green crown", is one of Germany's most scenic hilly regions. Wooded hills, primitive rock formations and picturesque meadow valleys lend the landscape its special character. Old-established traditions such as raft-making can still be seen today.
Top of page
Map of Germany
Map showing all of Germany's TOP travel destinations...
Click here!
Search in surrounding area