Other highlights
Contact

Regions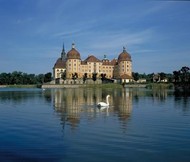 Distinctive art and culture, centuries-old tradition and scenic charm all come together in Saxony's holiday regions. The cultural scene is shaped by internationally renowned theatre and music productions, prestigious festivals, museums and exhibitions. Saxony is known for its unique craft traditions: musical instruments in the Vogtland, woodcraft in the Erzgebirge mountains, porcelain in Meissen, textiles (lace) in Plauen and clocks in Glashütte. Delightful scenery with soaring peaks and picturesque valleys and lakes makes this region the ideal setting for a countryside holiday, health and fitness break or family vacation.
The Erzgebirge mountain region has a tradition of producing hand-carved wooden crafts going back more than 300 years, the best-known examples being the nutcrackers and incense burners (Räuchermännchen) made in the shape of little men. The region takes its name ("Ore Mountains") from the silver ore which has been mined here for centuries. There is still evidence of the great wealth this brought in the mining towns of Annaberg-Buchholz, Schneeberg and Freiberg. Along the Silver Route, visitors can admire historical mills, copper hammers, visitor mines and the first school of mathematics, founded by Adam Riese, the influential arithmetician.
5,000 kilometres of marked trails criss-cross Upper Lusatia in the north-east of Saxony. The Upper Lusatian moorland landscape is also known as the "land of a thousand lakes" for its many, many lakes and ponds. Part of it has been declared a UNESCO biosphere reserve.
The hilly area around Plauen and Göltzsch valley is where the famous "Plauen lace" is made, while towns such as Markneukirchen and Klingenthal in the Vogtland have a tradition of making top-class musical instruments which stretches back over 300 years.
Dresden is surrounded by wide river meadows, delightful parks, gardens, vineyards, magnificent palaces and mighty castles. Then there are the vine-clad slopes of Lössnitz, Moritzburg Palace, Meissen - the first seat of the Wettin dynasty, world famous for its porcelain manufacture - and the many lakes and woods. Saxon Elbland also provided inspiration for Karl May, one of the most-read authors in the world.
Top of page
Map of Germany
Map showing all of Germany's TOP travel destinations...
Click here!
Highlights in brief
Dresden
State capital, opera house, Zwinger Palace, "Blaues Wunder" suspension bridge, Church of Our Lady
Leipzig
International trade fair venue, Gewandhaus concert hall
Chemnitz
Opera house, Villa Esche
Bautzen
Historical old quarter
Meissen
Porcelain
Netzschkau
Göltzschtal bridge
Olbernhau
Saigerhütte silver mining museum
Radebeul
Home of the writer Karl May
Seiffen
Toy museum
Zwickau
Automotive museum