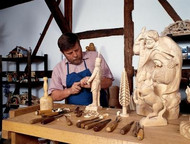 The Erzgebirge mountains – where are they? Well, first things first. Naturally, this is a region full of surprises and experiences in all seasons. Now we're getting somewhere – down south! The Erzgebirge mountains are one of Saxony's major holiday areas. They are attractive, densely wooded highlands on the border with the Czech Republic. Their highest peak at more than 1,200 metres is the Fichtelberg near Oberwiesenthal, Germany's highest town.
These mountains were shaped around 300 million years ago. They are unusually rich in mineral resources, which lie comparatively close to the surface. Silver, tin, cobalt, lead and other metals have made Saxony one of Germany's richest states. Uranium extraction began later and was relatively unimportant from an economic point of view. Even the name of the mountains cites the ore (Erz) for which the region is famous. The rich ores extracted by hard-working, inventive miners and smelted by experts, are fashioned by artists, craftsmen and industry into a wide variety of goods. Mining has made its mark on the entire mountain range, whether by altering the landscape or by influencing the region's cultural history.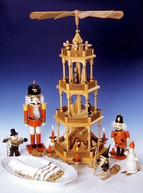 Although no miners' shouts ring out in the hills these days, the many centuries of mining activity have left many industrial monuments, such as pits, underground systems of roads, shafts and tunnels, slagheaps and water plants.
In this varied region, with its deep valleys, high plateaus, reservoirs, dams and moors, a rich tapestry of distinctive historical and cultural attractions affords the visitor interesting impressions of the past and present. The region's immeasurable richness in mineral resources, mining history, folk arts and crafts and customs attests to the prosperous days of ore extraction and to the hard times the region has experienced since.