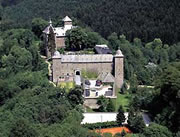 Live Like a King in Germany
Real-life castles in Germany still sit stoically on majestic hilltop perches, as their royal inhabitants once did upon the now-empty thrones. Many castles in Germany are nowadays inhabited once again, no longer holding their gates until the day's last visitor has departed. Now you can lay claim to the crown, experiencing daily life as a real prince or princess! Blur the line between fantasy and reality on your next vacation - enjoy castle stays overnight in an authentic German castle!
Don't wait...experience castles in Germany on your next trip here! To learn more about German castle stays and the many castles throughout the country offering accommodation, check the links below.