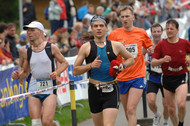 From the middle reaches of the river Werra near Hörschel to the upper reaches of the river Saale near Blankenstein, the Rennsteig trail runs across the peaks of the Thuringian Forest and the Thuringian Slate Mountains as far as the northern Franconian Forest. The Rennsteig cross-country race covers a distance of around 73 km and takes place here every May in honour of Johann GutsMuths, co-founder of the gymnastics movement.
Not for the faint-hearted
Established in the 1970s, the Rennsteig race is one of the largest cross-country races in Central Europe, and certainly one of the most beautiful. Every year, around 10,000 runners come to take part in the race, making it one of the most popular races in Germany in recent years. Hallmarks of the race include the excellent refreshments provided along the route and the dumpling fests before and after the race in Schmiedefeld.